Operation Fermentation VIII
Thank you for your interest in the Operation Fermentation VIII organized by
, Katy, TX.
You only need to register your information once and can return to this site to enter more brews or edit the brews you've entered. You can even pay your entry fees online if you wish.
Thanks and Good Luck To All Who Entered the Operation Fermentation VIII!
There are 630 registered entries and 133 registered participants, judges, and stewards.
As of 7:18 PM, there are 0 received and processed entries (this number will update as entries are picked up from drop-off locations and organized for judging).
Rules
This competition is open to all homebrewers.
The competition is restricted to non-commercial and home-brewed beers and meads. "Homebrewed" means that entrants cannot brew the beer on a production brewery's/meadery's system, brew onsite at a production brewery/meadery, ferment using a production brewery/meadery's fermentation vessel, or produced using ingredients provided by a brewery/meadery.
The competition organizers are not responsible for mis-categorized entries, mailed entries that are not received by the entry deadline, or entries that arrived damaged.
The competition organizers reserve the right to restructure awards as needed depending upon the quantity and quality of entries.
See additional Rules in the "Info" Link above
Every first place winner from every category will receive a custom goblet with the Operation Fermentation VIII logo embossed and the description of the beer/mead category.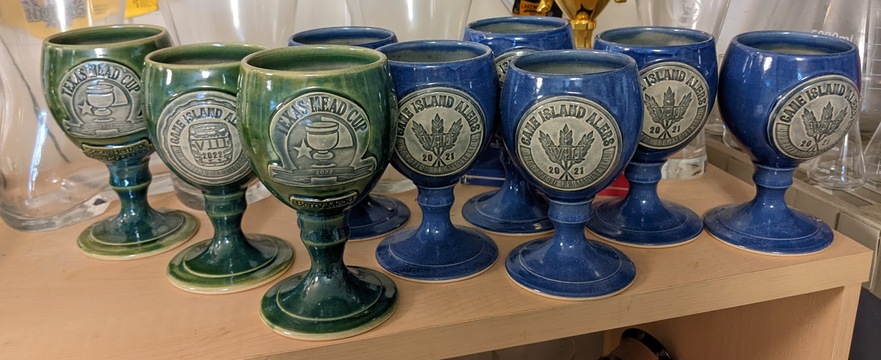 Judging Session Locations and Dates
Competition judging dates are yet to be determined. Please check back later.
Competition Officials
You can send an email to any of the following individuals via Contact.
Javier Chirinos — Competition Coordinator
Pat Sullivan — Head Judge
Matt Westwick — Webmaster
Sponsors
Cane Island Alers is proud to have the following sponsors for the Operation Fermentation VIII.

5351 1st St, Katy, TX 77493
Langly (Title) Sponsor of Operation Fermentation, and sponsor of Cat 18

838 S 16th St, Manitowoc, WI 54220
Director's Sponsorship, Heavy Medal Award

1231 Broadway St, Pearland, TX 77581
Deputy Sponsor, Cat 17 Strong British Ale

6801 Hwy Blvd, Katy, TX 77494
Deputy Sponsorship Proam Cat 30 Spiced Beer
Deputy sponsor, Category 33, Wood Aged

806 N Ave H, Elgin, TX 78621
Deputy sponsor Cat M1C Sweet Mead

941 W 18th St, Houston, TX 77008
Deputy Sponsor, category 1 American beer

1504 Chapman St, Houston, TX 77009
Deputy Sponsorship, with Pro-Am, Category 21 IPA

1902 Washington Ave Suite E, Houston, TX 77007
Deputy Sponsor, Cat 12, Commonewalth

1348 Cedar Post Ln, Houston, TX 77055
Agent Sponsor, Category 19, Amber and Brown American Ale

900 NJ-54 Suite 4, Hammonton, NJ 08037
Agent Sponsorship of Category 28 American Wild Ale

17268 NE Sacramento Street Portland, OR 97230
Agent Sponsor, Category 16, Dark British
Agent Sponsorship of Category 25, Strong Belgian

6870 W 52nd Pl Suite #205, Arvada, CO 80002
9018 Ruland Rd Unit E Houston, TX 77055
5692 Buckingham Drive, Huntington Beach, CA 92649
3154 Delta St, Victoria BC, V8Z 1A7, Canada
330 S Maple St, Corona, CA 92880
3866 N Fratney St, Milwaukee, WI 53212
5141 Rincon Ave., Santa Rosa, CA, 95409